Reverse Osmosis Drinking Water Systems
Whether you drink city water or well water, your family's drinking water is at constant risk of contamination. The water supplies of residents throughout Illinois regularly test positive for industrial and agricultural pollutants, naturally-occurring toxins, and lead from outdated infrastructure. When it comes to eliminating these contaminants and ensuring safe water for your family, nothing beats a reverse osmosis water filter.
Here's how reverse osmosis supplies your family with the cleanest and healthiest water, and why Angel Water is the top choice for installing and servicing your RO system.
How Does Reverse Osmosis Deliver the Cleanest Water?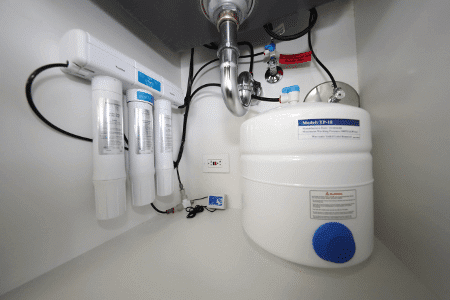 A reverse osmosis system uses pressure to force water through a semipermeable membrane, removing a wide variety of contaminants. When combined with a carbon filtration component, this removes the most complete range of contaminants out of all the water filtration methods on the market.
You're probably familiar with carbon filters, commonly found in pitchers, refrigerators, and other household water treatment devices. However, this type of filtration can't remove many contaminants that may be in your water, including chromium, arsenic, and more. Other filtration methods like deionization filters and UV systems also target some contaminants but not others, including microorganisms like E. coli or chemicals like volatile organic compounds (VOCs).
An Angel Water reverse osmosis system with a carbon filtration component will remove the most complete range of contaminants, including:
Fluoride
Iron
Zinc
Mercury
Selenium
Phosphate
Lead
Arsenic
Nickel
Manganese
Cadmium
Cyanide
Chloride
Chromium-6
Nitrates
Perchlorate
Potassium
Sodium
Bacteria like cryptosporidium
Trihalomethanes
VOC
If you want safe, clean, healthy water for you and your family, then RO water is what you want. A reverse osmosis filter ensures the highest-quality water you can get.
Angel Water Is Your Go-To Expert for Reverse Osmosis Water Filters
A reverse osmosis filter is the best way to secure high-quality water, and the best way to secure a high-quality reverse osmosis system is with the experts at Angel Water.
Not all reverse osmosis systems are equal. There are many different manufacturers, some that make their systems here in the U.S. and some that import cheap parts from abroad. They offer many different designs at a broad range of price points. So, what makes our systems different?
PurAsure reverse osmosis filters from Angel Water are high-quality NSF-certified systems. In addition to drastically reducing the presence of contaminants, they add minerals back into the water that are essential to your health. They also require fewer filter changes, reducing the overall cost of ownership. All in all, Angel Water's PurAsure reverse osmosis systems are the best choice for supplying your home with better-than-bottled quality water.
Angel Water's team of professionals has been installing and servicing reverse osmosis water filters in the Chicago area for decades. Our technicians have years of experience installing RO systems like the PurAsure ERO and the WiFi-enabled PurAsure HERO-375. We'll install the system that best fits your needs and perform regular maintenance visits to keep your system running in top form.
Don't wait—call Angel Water and secure the cleanest highest-quality water for your home today!
Tired of stocking up on bottled water?
Get your water tested and find the solution to producting your own water today!