Water Purification Systems for a Healthy Home
Find the Best Water Treatment Products to Protect Your Family
Concerned about the quality of your tap water? Our NSF-certified water purification systems provide all the benefits you're looking for, including:
Softer and healthier hair and skin
No scale buildup on plumbing fixtures, dishes and clothing
Eliminate dangerous toxins like lead, hexavalent chromium and chlorine
Neutralize bacteria that make your water taste, smell and look bad
Add healthy nutrients to your water
Make your water safer and more enjoyable to bathe in and drink
And more!
Not only do we provide these products, but we also offer free water testing to help you determine which system is best for you. Plus, our licensed professionals will install and maintain your system for optimal performance.
Explore Top Water Treatment Systems
At Angel Water, our number one goal is to make your water cleaner and healthier for your home and family. That's why we offer the water purifying systems you need from trusted brands with long-term warranties for your peace of mind.
Water Softener Systems
Water softeners prevent hard water from damaging appliances, leaving nasty scale on dishes and clothes and drying out hair and skin. They will also protect your family's health. Our NSF 44 certified systems remove cancer-causing radium 226/228 and barium from the water.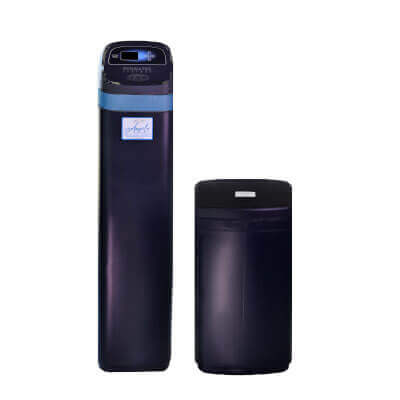 Reverse Osmosis Systems
Reverse osmosis (RO) systems protect households from dangerous toxins like lead, hexavalent chromium, chlorine, mercury and more. The water goes through several layers of filtration to ensure it's as clean as can be. Check out our NSF 58 certified RO systems from top brands to find your perfect fit.
Chlorine Injection Systems
A chlorine injection system like the PurAClear prevents many common well water problems caused by bacteria, including rotten egg smell, toilet bowl stains and waterborne illnesses. The PurAClear uses chlorine to neutralize these harmful toxins, much like a water tower does for city water.
Whole House Water Filtration Systems
Contaminated water creates all sorts of unpleasant experiences around the home. If you've had enough of this, a whole house water filter is your best option. Our whole house filtration systems intercept water as it enters your home and run it through extensive filtration to send cleaner, healthier water to every tap.
Water Heaters
Experience a perfect blend of efficiency and comfort with our top-rated electric and gas water heaters from A.O. Smith. We provide convenient professional installation for homes of all shapes and sizes. Schedule a free consultation today and say goodbye to cold showers and high utility bills!
Sump Pumps and Battery Backups
Protect your basement from water damage with our reliable sump pump and battery backup systems. Explore our top-quality products, including sump pumps, sewage pumps and smart technology for remote monitoring. Plus, enjoy peace of mind with our professional installation and maintenance.
Enjoy Top Water Purification Systems from Licensed Experts
We provide top water treatment products in Northern Illinois and Southeast Florida. Please call (847) 382-7800 or click the button to the right to schedule your free home consultation.
Tired of stocking up on bottled water?
Get your water tested and find the solution to producting your own water today!