Keep Dangerous Toxins Out of Your Family's Drinking Water
A quality reverse osmosis system will protect your family from many dangerous toxins, including:
Lead
Hexavalent chromium
Chlorine
Mercury
Cyanide
Trihalomethanes
And more!
Contact Angel Water today to get a trustworthy NSF/ANSI 58 certified RO system for your home. Our licensed technicians will professionally install it to give you the healthier water you deserve.
"Everyone from our initial inquiry call with Serena to Matt (our Project manager) to the technicians and plumbers that installed our system were great. They showed up on time, answered all our questions and complete our installation to deliver us clean, great tasting water, right from a dedicated kitchen tap and fridge. Thanks Angel team!"

"Got a Reverse Osmosis system by Angel last year and had our first service appointment today. System has been working great, water tastes great and had to fool with the system exactly zero times since initial install. More money than doing it yourself, but save yourself the hassle and just enjoy good drinking water without ever having to buy bottled water since you're making it at home!"

"Save your time and sanity. Just hire these guys. I thought about hiring a plumber and picking out a system to cut cost but playing guessing games or mix got old real fast. They were in and out in about an hour. System is up and running flawlessly and I have the comfort of quality and a warranty."

Are you spending money every month on Bottled Water for your home or office? That adds up quickly and with inflation, it's only going to cost more tomorrow.
With the NEW purAsure Counter top Reverse Osmosis System you never have to pay for another case of plastic bottles! Get yours before the price goes up and Enjoy cleaner, healthier water on demand!
Shop Top Quality Reverse Osmosis Systems
We offer a wide selection of quality reverse osmosis systems to choose from. The three listed below are the most popular under the sink models for Chicagoland residents. Please note that we can modify each of these systems with an alkaline filter. This filter is the only option available that can achieve a pH of 9.4, which is the ideal level for healthy alkaline water.
Comes with chrome-colored faucet
Three-stage filtration process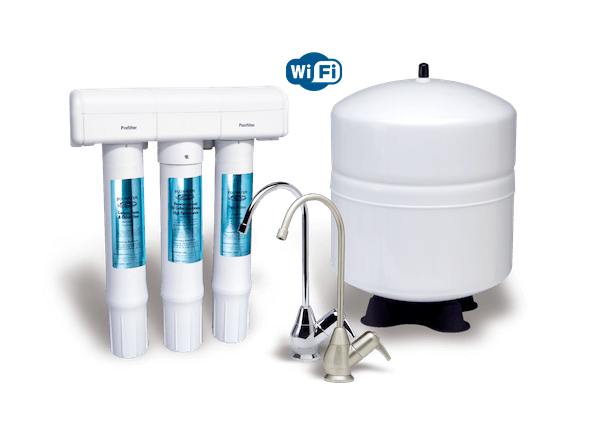 Comes with chrome-colored faucet
Can expand system to include additional filters
Comes with chrome-colored faucet
System notifies smartphone when it needs salt and service
Get Licensed Installation in Chicagoland and Southeast Florida
Our team can help you find the right system for your home and install it for you. We have the licensing and experience necessary for professional reverse osmosis system installation.  Here's what you can expect when working with us:
Testing
We'll test your water to see which impurities the RO system will need to filter.
Demonstration
You'll receive a clear visual explanation of what harmful toxins are in your water.
Recommendation
We'll help you choose the best RO filter based on our assessment of the test results.
Appointment
Once you choose your filter, you can schedule an installation appointment with our team.
Installation
Installing your system should take no more than one and a half hours.
Inspection
We'll examine your filter and plumbing system to make sure all is good to go for you.
Enjoy
Once we're done, you'll have the safe and clean water you need for many years to come!
Receive the RO System Maintenance You Need
We don't just sell and install reverse osmosis water filters. We also offer professional maintenance from licensed plumbers to keep your system running well. This service includes: protection.
Cleaning and repairing damaged parts
Regular filter replacements
Answering all your questions about RO systems
Our licensed plumbers will perform all necessary tasks to ensure you retain full warranty coverage on your system. Contact us today to schedule your reverse osmosis maintenance appointment.
Enjoy the Benefits of a RO System from Angel Water
Best Filter for Your Home
We'll help you find the system best equipped to handle all your water problems.
No Harmful Contaminants
Keep out many toxins, including lead, chromium-6, arsenic, trihalomethanes, VOCs and more!
Added Nutrients You Need
The best systems not only remove bad toxins but also add in good minerals like calcium.
Filters Certified to Work
Get the guidance you need to find the quality systems certified to give you the best results.
Professional Installation
Enjoy peace of mind as we install your system the right way for maximum protection.
Satisfaction Guaranteed
We promise you will be 100% satisfied with the reverse osmosis system we install for you.
Hear from a Satisfied Customer in Palatine, IL
Rich Ross of Palatine, IL, was tired of paying so much for bottled water. Watch the video below to learn how our team was able to help him by installing a reverse osmosis system in his business.

Frequently Asked Questions
If you don't find the answer you're looking for, please call us at (847) 382-7800.
What is a reverse osmosis system?
A reverse osmosis system is a device that filters water through several layers of filtration to make it as pure as possible. The main filter in the system is a semipermeable membrane, which lets water through but holds back a wide range of pollutants. The system forces water through this membrane in a reversal of the natural osmosis process to get the toxins out.
What does a reverse osmosis system do?
A reverse osmosis water filter removes a wide range of contaminants from water before sending it to the water-using appliances in a home. The best RO systems also add good minerals to the water after filtering out the bad ones. This process makes the water cleaner and healthier and improves its smell and taste.
What types of contaminants can a reverse osmosis system remove?
A reverse osmosis system removes the most contaminants of any water filter on the market. These include sediments, particulates, pesticides, dangerous chemicals like chlorine and fluoride and microscopic pathogens like bacteria and viruses. RO systems can also take out heavy metals like lead and mercury. The best RO systems remove up to 99% of total dissolved solids from water.
How does a reverse osmosis system work?
A typical RO system contains four different filters that work together to clean the water. When the water enters the system, it first goes through a sediment filter, which removes any large particles from the water. After this, it goes through a pre-carbon filter, which takes out chlorine and any other organic compounds that may damage the RO membrane.
Once this initial filtration is complete, the water is ready to undergo reverse osmosis. This process works by forcing the water through a semipermeable membrane. The membrane allows water through but keeps the contaminants from coming with it.
The water then goes through one final carbon filter, which further reduces any impurities that could make the water taste or smell bad. Some systems end here and then send the water to the home. The best systems also add nutritious minerals into the water to send the healthiest, cleanest water to your tap.
How does RO compare to other filtration options?
Reverse osmosis systems provide the most complete protection from contaminants of any filtration option on the market. Standard carbon filters can remove toxins like lead and chlorine but can't remove chromium-6 or arsenic. Distillation filters can remove minerals and chemicals but can't remove chlorine or VOCs. UV filters take out microorganisms but not chemicals. Only reverse osmosis filters can remove all of these pollutants with no exceptions.
How much does an RO filter cost?
You can get a lower quality RO system for as little as $200. However, because of its low quality, this system will likely cost you a lot more in maintenance and repair fees over the years.
A better option is to invest in a high-quality system and have it professionally installed. The significant upfront cost will be more than worth it for the long-term benefits and lower maintenance fees on your system.
Of course, we realize that not everyone can have an RO system installed in their home. Fortunately for those people, a high-quality countertop reverse osmosis system also exists. You can get the PurASure Countertop RO System from Angel Water for only $399!
How much water does a reverse osmosis system produce per day?
The answer to this question depends on the size of your system. A standard point-of-use RO system installed under the sink typically produces 10 to 75 gallons of water per day. Countertop RO systems are much smaller and therefore produce only a few gallons of water per day.
Do reverse osmosis systems waste water?
Every RO system generates some amount of wastewater for every gallon of purified water it produces. This wastewater is necessary because it flushes away the toxins the system filters from your drinking water.
While producing any amount of wastewater is not ideal, the best RO systems limit how much water they waste. You can identify these systems by their wastewater efficiency ratios. A standard efficiency ratio for an RO system is 4:1, meaning it produces four gallons of wastewater for every gallon of purified water.
What is the best reverse osmosis system?
The best reverse osmosis system for you will depend on your household's unique needs. However, there are some things your system must have to be of the highest quality. Here are the five essential characteristics of a great RO system:
NSF 58 Certification

for proven results

100% made in America (no low-quality foreign parts)

Made entirely of BPA-free materials

Adds healthy nutrients back into the water after filtration

From a trustworthy brand like PurASure or EcoWater
As long as your RO system checks off all five of these boxes, then you can count on it to give you and your family the cleanest, healthiest water.
How much maintenance does an RO system require?
RO systems require regular filter and membrane replacement. Pre- and post-filters typically need replacement every 3-12 months. The RO membrane lasts the longest and needs changing every 2-3 years, depending on the manufacturer's requirements. We also recommend having your system professionally serviced every year to ensure it's in good shape.
How long does a reverse osmosis system last?
A high quality reverse osmosis system can last up to 10-15 years if you properly maintain it. Other factors, such as the quality of your water and how often you use the system will also impact its lifespan.
Is an RO system worth it?
Yes! A quality reverse osmosis system is a worthwhile investment because of the incredible amount of toxins it can protect you from. Here's just a small sample from that list:
Arsenic

Chromium-6

Cyanide

Fluoride

Haloacetic Acids

Lead

Manganese

Mercury

Nitrates

Total Trihalomethanes

Volatile Organic Compounds (VOCs)

Zinc
The key is to make sure you're getting a quality system. The cheaper systems you find at big box stores don't protect from as many pollutants as the higher-priced systems from quality brands like PurASure. These systems also don't produce as much water and require more maintenance than their NSF 58 certified counterparts.
Another reason an RO system's worth it is the money you'll save in the long run. Most Chicagoland residents spend a fortune on bottled water because they don't trust their tap water. Reverse osmosis makes your tap water safe to drink, thus making buying all those plastic bottles unnecessary!
We Want to Help You Get the Clean Water You Deserve!
It would be our pleasure to help you find the ideal RO system for your home. Please call (847) 382-7800 or click the button to the right to schedule an in-home consultation. You can also stop by one of our locations in Barrington, IL, St. Charles, IL, or West Palm Beach, FL to browse our selection of RO filters today!