Water in Rolling Meadows, Illinois
Rolling Meadows has been receiving its water from Lake Michigan since 1986. All the water the city receives has already been treated. This water is transferred to Rolling Meadows through the Northwest Suburban Joint Action Water Agency, located near O'Hare Airport. There are three delivery points throughout the city that regulate incoming flow. There are four deep wells and emergency generators if there were to be an emergency.
According to an article in the Huffington Post, an alarming amount of traces of prescription drugs, caffeine and other chemicals were found in testing water samples from Lake Michigan. The past belief was that the solution to pollution is dilution when dealing with large bodies of water, but tests prove this is not the case.
Wikipedia: https://en.wikipedia.org/wiki/Rolling_Meadows,_Illinois
3 contaminants above legal limits.
In some states a small percentage of tests were performed before water was tested, and some contaminants were subsequently removed or diluted. As a result, some reported levels of contamination may be higher than were present at the tap. Results shown are based on individual samples and may not indicate a violation of the Safe Drinking Water Act, which often occurs only after prolonged tests show concentrations above a legal limit.
1 Contaminants below legal limits, but above health guidelines.
16 Contaminants found within health guidelines and legal limits.
Contaminant
Di(2-ethylthexl) phthalate
Mercury (total inorganic)
Local Water Polluters near Rolling Meadows, IL
Arlington Plating Company (900 Carnegie Street, Rolling Meadows, Illinois 60008) – 4 Violations
2008 – 4 permit violations
Menards (3650 Berdnick Blvd, Rolling Meadows, Illinois 60008) – 9 Violations
2004 – 2 effluent violations
2005 – 1 effluent violation
2006 – 3 effluent violations
2007 – 2 effluent violations
2008 – 1 effluent violation
Located in Cook County, about 24 miles from the Northwest Loop, the area of Rolling Meadows was first settled by a gentleman named Orrin Ford. When Ford claimed his 160 acres of land, the area that is now known as Rolling Meadows was mostly comprised of forests and rolling terrain. Farming families followed Ford, many of them migrating from Vermont. By the beginning of the 1840s, the area's settlers had laid claim to the entire area now known as Plum Grove and built a dam across Salt Creek.
As more German settlers arrived by 1850, the area became part of the newly established Palatine Township. In 1862, development had begun, most notably the erection of the Salem Evangelical Church, whose cemetery stood at the corner of Plum Grove and Kirchoff Roads. Development continued into the early 1900s when H.D. Brown purchased 1,000 acres of land to build a racetrack and adjacent golf course in the area that would become Rolling Meadows.
With construction of the racetrack and golf course stalled, Kimball Hill purchased a portion of the land to begin selling homes through an advertisement in the Chicago Tribune. Everything was going well and interest in the homes was high, but residents of the nearby Arlington Heights had plans to purchase the land and use it for estate homes. Although the Arlington Heights residents protested the development, the prospective buyers of Hill's homes were able to convince Cook County to approve the development.
By 1953, the first homeowners began moving into the development, which Hill later officially named Rolling Meadows. The production schedule was set for 20 houses weekly and 700 houses were sold by 1955. The majority of the residents of Rolling Meadows were blue-collar workers and Hill went as far as donating $200 for every home he sold towards building a local school district, which would later fund building and outfitting the first elementary school. Hill also provided land for parks and even funded the building and opening of the Clearbrook Center, a home for the mentally handicapped in 1955.
The town was incorporated in 1955 with the name Rolling Meadows and town's economy boomed throughout the 1950s and 1960s as more business moved to the area. By 200, Rolling Meadows' population had grown to over 24,000 residents, with a population that is 19 percent Hispanic, 7 percent Asian, and 3 percent African American. The city also began revamping their commercial areas, located along Kirchoff Road, including corporations such as 3Com, Charles Industries, and Helene Curtis.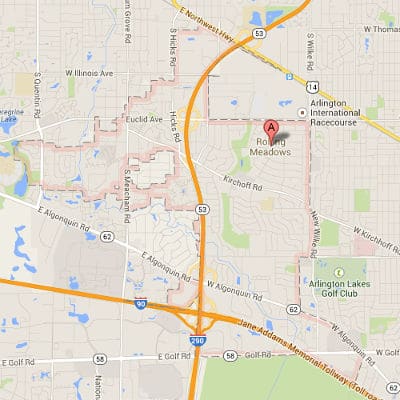 Discover Clean Water with the PurASure Countertop RO System
Tired of dealing with water bottles? Bring home the compact solution for clean and pure water! The PurASure Countertop RO System fits effortlessly on your counter, offering top-notch reverse osmosis filtration that rids up to 99% of contaminants. It's easy to install, space-saving, and a sustainable choice for your home. Dive into the future of hydration.
Order this week for FREE SHIPPING!