Here's What You Need to Know About Drinking Water in McHenry, IL
The drinking water in McHenry, IL, is not nearly as clean as it should be. According to data from the Environmental Working Group (EWG), the water contains an unsafe amount of several pollutants.
While this is certainly alarming, it is not a hopeless situation. After all, there are still ways for citizens to protect their health! Read on to learn more about the contaminants in McHenry's water and how you can defend against them.
Haloacetic Acids
The haloacetic acids are frequently found in drinking water. These pollutants can arise when chlorine and other disinfectants interact with water. There are many health risks associated with overexposure to haloacetic acids, including cancer, extreme skin irritation and congenital disabilities.
EWG reports that the total amount of haloacetic acids in McHenry's water is 7.19 ppb. While this total is under the legal limit of 60 ppb, this limit is far too lax and has not been updated in over 20 years. EWG, on the other hand, sets a much stricter health guideline of 0.1 ppb. Alarmingly, McHenry's total is 72x higher than that guideline!
Here are the results for each of the individual acids:
Dibromoacetic acid – 0.875 ppb (22x higher than the EWG limit of 0.04 ppb)
Dichloroacetic acid – 1.48 ppb (7.4x higher than the EWG limit of 0.2 ppb)
Monobromoacetic acid – None detected
Monochloroacetic acid – None detected
Trichloroacetic acid – 4.83 ppb (48x higher than the EWG limit of 0.1 ppb)
Radium-226 and -228
Radium-226 and -228 can cause many health problems, including lung cancer, bone cancer, anemia and stunted bone growth. These radioactive isotopes often form through natural processes. However, they can also result from human-made pollution.
The drinking water in McHenry contains 0.43 pCi/L of radium-226 and -228, according to EWG. This total is 8.5x higher than their recommended health guideline of 0.05 pCi/L.
Total Trihalomethanes (TTHMs)
Like the haloacetic acids, TTHMs form from the water disinfection process. This group of four pollutants can increase the risk of bladder and colorectal cancer.
According to data from 2017, McHenry's water contains 32.2 ppb TTHMs, which is 215x higher than their recommended health guideline of 0.15 ppb.
Here are the totals for each of the TTHMs
Bromodichloromethane – 10.2 ppb (171x higher than the EWG limit of 0.06 ppb)
Bromoform – 1.98 ppb (4x higher than the EWG limit of 0.5 ppb)
Chloroform – 11.3 ppb (28x higher than the EWG limit of 0.4 ppb)
Dibromochloromethane – 8.71 ppb (87x higher than the EWG limit of 0.1 ppb)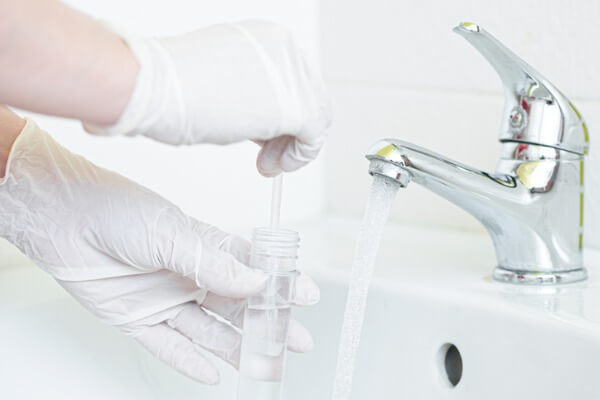 How to Defend Your Health
Clearly, there are a lot of health risks associated with drinking McHenry water. After all, the contaminants listed above are only the ones that exceeded EWG health guidelines. Other contaminants detected below EWG health guidelines include barium, manganese, nitrate, nitrite and more!
For this reason, McHenry citizens need to protect themselves against potential health hazards.
The best way to do this is by getting your water tested and investing in the proper water treatment equipment. At Angel Water, we can help you with both of those tasks!
We perform EPA-certified water testing and offer a full line of quality water filters, including reverse osmosis filters and whole-house models. Our licensed experts would be happy to help you determine the best system for your home and install and maintain it for you!
Searching for a Water Filter in McHenry?
We hope you have found this page helpful for better understanding your water. If you're interested in getting your water tested or finding a trustworthy water filter, we'd love to help! You can call us at 847-382-7800 to talk with one of our experts or stop by one of our locations in Barrington or St. Charles.
One water filter you may want to consider is the Zero Water filter. This portable and convenient option filters out many contaminants and leaves the water pure and delicious!
Try the Water Wizard
From the comfort of your own home, analyze your water using the inspection tricks of the trade with our Water Wizard.